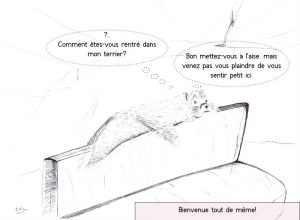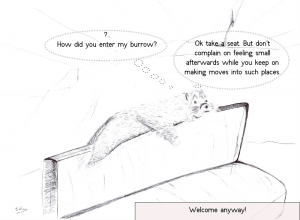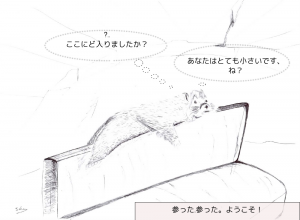 Bienvenue sur le journal «pensé» de Marmotte.
Pour information, d'après Wikipedia, un terrier de marmotte classique fait environ 2 mètres de long, pour un demi mètre de large. Mais est-il vraiment une marmotte classique?
Et tant que j'y suis, ne jouez pas les snobs. Comme si vous ne vous étiez jamais étalé comme une loque sur un dossier de fauteuil…

Welcome to the thought diary of Marmot.
Note that according to Wikipedia (the French one, no such information on the English one), a normal marmot's burrow would be around 2 meters long for a half meter large… though we might wonder if Marmot is a normal marmot anyway?
Eh don't look at me like this, by the way! Haven't you ever lied down on a couch's backrest, imitating an old sock in its better days? I'm sure you have. Everyone has!


考えるのMarmotの日記にようこそ!
マアモッとのいえが小さい (〜2m * 0.5m)です。でも Marmot は正常ですか?